Skip to main content
Shop by Category
Swipe through and shop Grand Seiko watches.
Collections
Explore Grand Seiko diverse range of exceptional watches, all available to purchase at Mayors.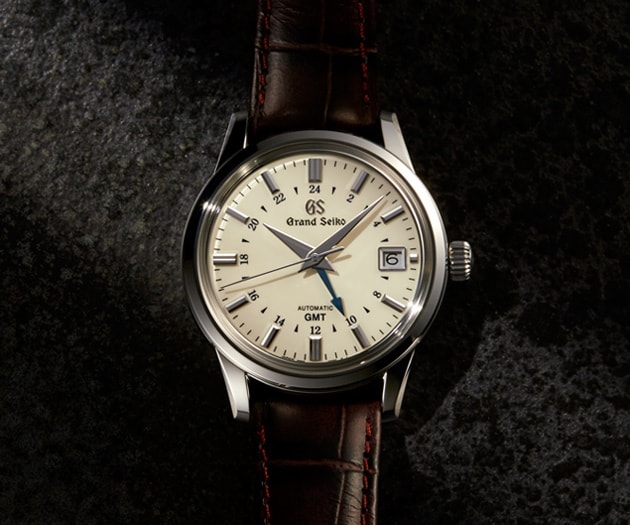 Elegance Collection
With its distinctively fluid curves, the Elegance Collection epitomizes the aesthetic purity and simplicity that is at the heart of Grand Seiko.
Go to Collection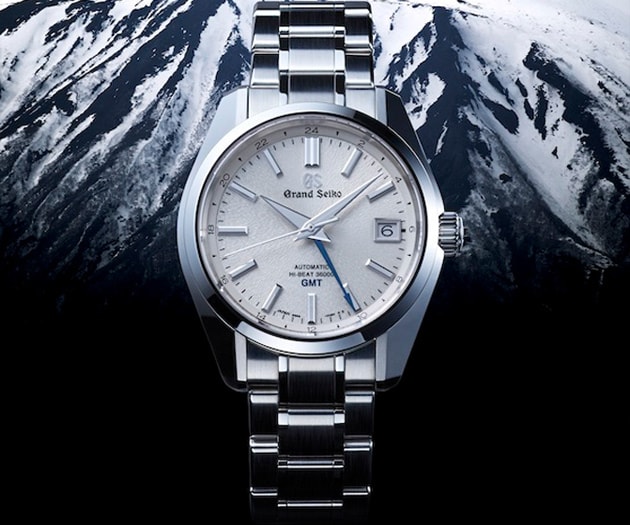 Heritage Collection
Contemporary and refined, with design elements in seamless harmony, the Heritage Collection is true to Grand Seiko's values of extraordinary craftsmanship and precision.
Go to Collection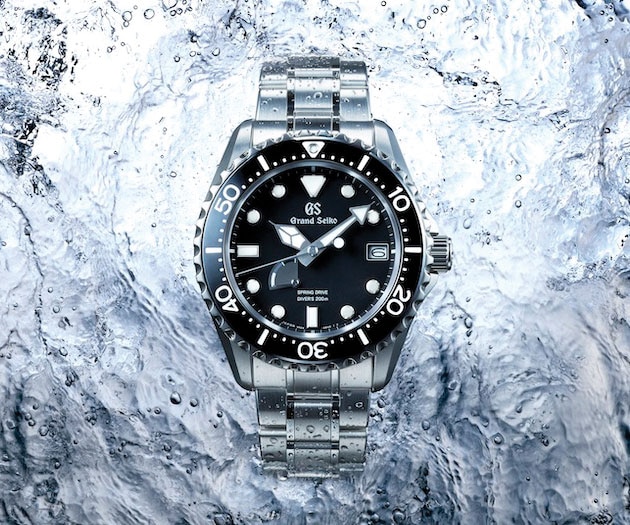 Sport Collection
Combining cutting edge technologies and robust construction, the Sport Collection offers watches of superior functionality and durability.
Go to Collection

Grand Seiko Watches for Men & Women
Grand Seiko watches have a distinctive look that reflects Japanese artistic tastes. The design is notable for the purity, simplicity and subtlety of its lines. Grand Seiko calls it "functional beauty," a style that does not interfere with the reading of the time, but enhances it with harmonious case lines and uncluttered, easy-to-read dials. Key to the design are polished surfaces that reflect rays of light. Since ancient times, Japanese people have admired the subtle gradations between light and shadow in nature. With that inspiration, Grand Seiko uses a simple case design composed of a flat plane and curved line that respond to the movement of light. Grand Seiko creates this hard-edged, flat-surfaced case through a process called Zaratsu, giving the case a mirror-like smoothness where light and shadow play.
Grand Seiko makes watches with three different kinds of movements: mechanical, quartz, and Spring Drive. Spring Drive is a technical breakthrough invented by Seiko that combines the best of mechanical and quartz technologies. It's an automatic watch that gives quartz accuracy without using a battery. No other watch company has this technology. It's a testament to the watchmaking savvy of a firm that has made mechanical watches since 1895.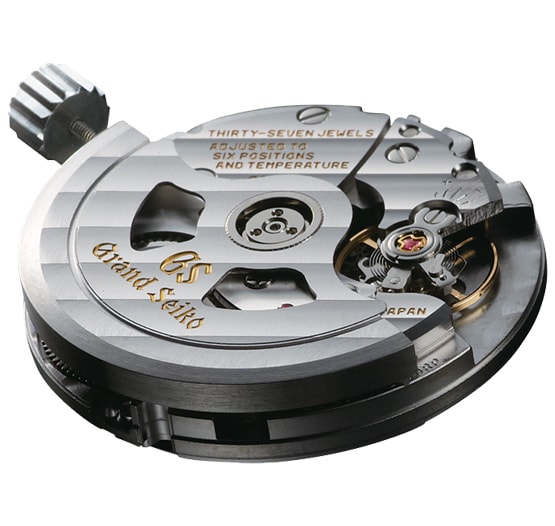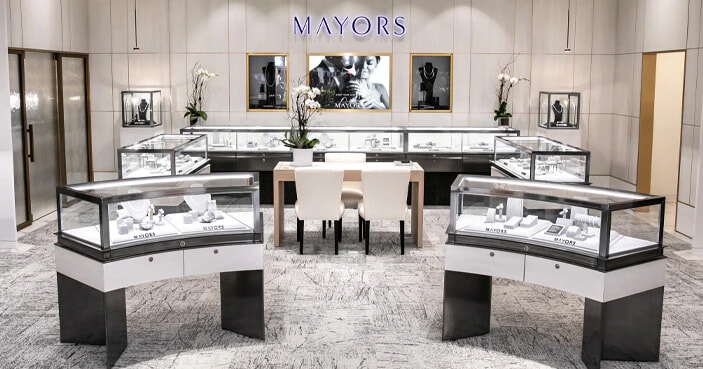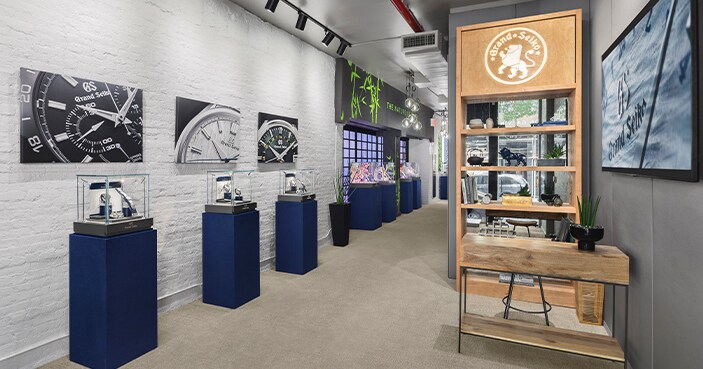 ---
Grand Seiko Watches
Grand Seiko watches encapsulate everything you'd expect from a world leader in horology. Unmistakable, handsome dials made with the most diligent attention to detail serve as a testament to decades of utilizing the most innovative, exceptional technologies in the world. Watchmakers at Grand Seiko adhere to the industry's strictest possible standards for accuracy, and each timepiece can be traced back to one of just two exclusive studios.

Whether you're looking to make the investment of a lifetime or buy an irreplaceable gift for someone special, an authentic Grand Seiko timepiece will fit the bill. By choosing a Grand Seiko watch, you'll be able to feel and understand the invaluable and meticulous levels of care and attention required to produce a true masterpiece. Read on to find out more about the legacy of this brand and the Grand Seiko collections for sale online with Mayors.

History of Grand Seiko

Since 1960, horologists behind Grand Seiko have been using authentic technologies to create these exquisite timepieces, inspired by the irrepressible, rejuvenating forces of nature. Grand Seiko believes the philosophy and spirituality of time exists to be understood and discovered through the manufacture of unique, handcrafted artisan watches.

The release of the first Grand Seiko watch in 1960 stemmed from a simple idea: to produce the 'ideal' watch with world-leading beauty, durability, and precision. With an aim to go further than existing models, including the Seiko Crown and other popular timepieces worn throughout the 20th century, Grand Seiko truly excelled.

Grand Seiko's new caliber 3180 offered a power reserve of 45 hours and was accurate to within +12 to -3 seconds per day. Over the years that followed, the brand's technological advancements only accelerated.

By 1968, Grand Seiko mechanical watches were recognized among the most accurate in the world. With newer alloys providing enhanced torque and durability for the innermost workings, newer Grand Seiko watches boasted impressively lower variations.

In 1988, the first Grand Seiko quartz watch was released. Manufactured entirely in-house, the 95GS watch triumphed above competitors, boasting an accuracy of ±10 seconds per year.

This esteemed company was the first to produce watches with Spring Drive movement, an innovative feature combining the best of mechanical and quartz technology to provide outstanding accuracy without the need for a battery.

Still maintaining the highest standards today, Grand Seiko keeps an intense focus on three pivotal movements: quartz, mechanical, and Spring Drive. The winner of the overall Men's Watch Prize at the 2021 Grand Prix d'Horlogerie de Genève was Grand Seiko's Hi-Beat 36000 80 Hours watch, asserting a continually impressive, lifelong commitment to outstanding watches. The Grand Seiko Collections

Grand Seiko Elegance

If you're dreaming of something that makes a natural statement, perfectly showcasing your style and taste, look no further than a Grand Seiko watch from the Elegance collection. These captivating timepieces pay homage to the formative Grand Seiko designs seen throughout the 1960s, with charming, distinctive, and robust features.

The retro Grand Seiko Elegance 3-Day GMT features intricately set numerals handsomely complemented by an ivory dial, offering readings with class and clarity. Driven by a powerful automatic movement, water-resistant up to 100 meters, and offering manual-winding capacity, this watch provides unrivaled functionality and beauty.

You'll also find characterful and colorful pieces in the collection, with the Elegance Skyflake Automatic Spring Drive 3-Day boasting a mesmerizing pale blue dial.

Grand Seiko Heritage

Grand Seiko watches in the exclusive Heritage collection combine traditional watchmaking techniques with pure, balanced, and functional designs. If you're looking for a timepiece that's as at home in the office as in the ballroom, models like the Grand Seiko Heritage GMT make an excellent choice. The Heritage 9F Quartz Limited Edition, meanwhile, combines stainless steel with gold for an iconic look.

With an exceptional crystal case back exposing intricate, mechanical workings, the Limited Edition Grand Seiko Heritage 40mm also features timeless stainless steel and an alluring dark blue dial.

The Grand Seiko Heritage Caliber 9F boasts an almost-pearlescent silver dial set underneath strong sapphire crystal glass, making it an opulent choice for any wearer.

Grand Seiko Sport

The exclusive selection of Grand Seiko Sport watches for sale includes some of the most extraordinary timepieces in the world. These attractive, resilient watches feature a choice of quartz or automatic movements for uncompromised practicality alongside the most sophisticated aesthetic.

The uniquely textured white dial of the Grand Seiko Sport 43.5mm displays three miniature chronographs, evoking the snowy terrain mastered by the professional winter sportspeople and mountaineers who gave this watch its legacy. For divers and underwater enthusiasts, the Grand Seiko Sport Mechanical Hi-Beat 36000 offers water resistance up to 600 meters and unparalleled, rugged performance in all conditions.

Caring for your Grand Seiko watch

We understand that buying a new Grand Seiko watch is bound to be one of the most important, sentimental investments of a lifetime. With attentive, careful maintenance at home, you'll be able to ensure the longevity you deserve from your expertly crafted timepiece.

However, we also know that situations beyond your control could jeopardize your efforts and undermine the value of your watch. That's why we provide complimentary watch cleaning and inspection every six months, available at your nearest store and all our US branches if you're away from home.

We're honored to offer luxury services to protect your new Grand Seiko watch. Our team of experts offers specialized repairs, cleaning, and restoration, regardless of how many timepieces you have in your collection. You can trust us to take the utmost care and attention while we restore it, even despite daily wear and tear, dust, and pollution.

Find your new Grand Seiko watch with Mayors

If you're ready to choose your new Grand Seiko watch, you deserve to feel confident that you're making the right decision. From the newest Grand Seiko Heritage watches to specialist performance timepieces, we can help guide you to the most suitable choice.

Choose from our online range or the exclusive selection for sale in one of our US boutiques. All orders from our Grand Seiko watch collection come with free delivery included as standard, and we'll insure your luxury timepiece from the moment it leaves our facility until it's safely in your hands.

Mayors is a trusted, leading expert in luxury watches, with successful and longstanding partnerships with esteemed brands like Grand Seiko. To learn more about what we do and what our luxury watch services entail, check out our FAQ section. As always, don't hesitate to get in touch if you have any questions about your new Grand Seiko watch.
Back To Top
We use cookies to deliver the best experience. By using our site, you agree to our cookie policy.
Find out more.
We use cookies to deliver the best experience. By using our site, you agree to our cookie policy.
Find out more.
We use cookies to improve your experience and help us to understand how we can make it better. Some of these are essential to make this site work. By continuing to use our site you agree that you are happy to receive all cookies. If you would like to turn off cookies you can manage cookies in your browser settings
Find out more.