Skip to main content
Shop by Category
Swipe through and shop Breitling watches.
Collections
Explore Breitling's diverse range of exceptional timepieces, all available to purchase at Mayors.
Breitling Top Time
The Top Time name holds a strong place in Breitling history since it was the first Breitling watch resolutely talking to a young and trendy audience back in the 1960s. And with its unique dial design, fondly nicknamed "Zorro" by collectors, it very much did so!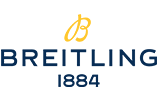 Authorized Breitling Retailer
Since 1884, Breitling has established a global reputation for high-precision timepieces, its pioneering role in the development of the wrist chronograph, and its uncompromising commitment to design excellence. With the brand's storied association with aviation, Breitling has shared the finest moments in humankind's conquest of the skies. Renowned for its spirit of innovation, it has also earned a place of privilege in the worlds of science, sport, and technology. Breitling manufactures its own movements in-house and the quality of every watch is confirmed by its status as a COSC-certified chronometer, made in Switzerland.
Visit Breitling