Skip to main content
Collections
Explore Fope's diverse range of exceptional jewelry, all available to purchase at Mayors.
Ladyfope, a jewel for your time
Introducing Ladyfope, the brand's exclusive Swiss Made watch that combines a quartz movement and the Flex'it bracelet. No clasp needed, just comfort and style, LadyFope is an contemporary timepiece, a jewel for your time.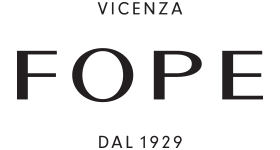 Fope Jewelry
Fope is an Italian goldsmith, an international jewelry brand, a tradition that keeps innovating. Its headquarters, offices and production are located in Vicenza, Italy, where the company was established in 1929 and where a continuous progress takes place thanks to skilled craftsmen and cutting-edge machines.
Every jewel is created in-house and Fope's collections have evolved through the decades, but have always remained true to the founders' values: attention to detail, top notch quality and unmistakable elegance.
Fope is a certified member of the Responsible Jewellery Council.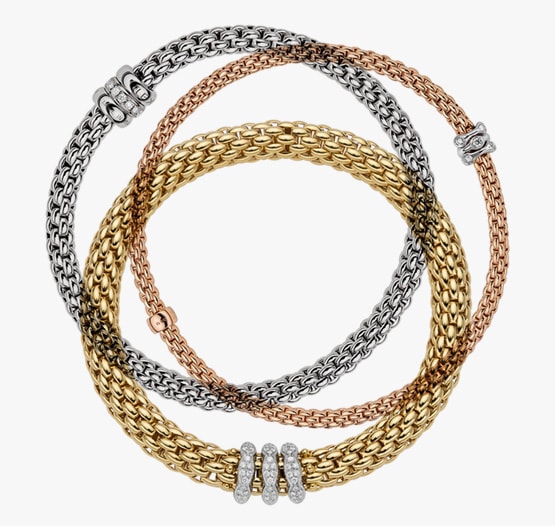 Fope Jewelry
Fope jewelry reinvents Italian design classics. Releasing authentic, exceptional gold and silver jewelry, this prestigious brand carries a flair for experimentation and innovation in every piece. The expertise of in-house master goldsmiths imbues Fope bracelets, necklaces, earrings, and rings with unrivaled standards of care and quality, ensuring you'll receive only the finest pieces.

With cutting-edge technology and numerical control machinery, Fope's manufacturing facility was founded in the heart of Vicenza, Italy, where it remains to this day. We are honored to offer an exclusive, handpicked online selection of luxury pieces by Fope. From the heart of Italy of the US, browse our range of Fope jewelry for sale below.

History of Fope

Established in 1929, Fope continues to nurture the perfect blend of technology and craftsmanship. The brand originally started with Umberto Cazzola, who employed roughly 20 people in a small workshop before passing on his approach to his son Odino.

Strong economic growth following the Second World War helped transform the Cazzola workshop into a cutting-edge factory. In 1948, the company, then called FICM, presented its first original works at Vicenza fair. By 1960, Fope had become the leading supplier of bespoke Italian metal straps for luxury Swiss watchmakers.

The company rebranded to Fope – translating to the Factory of Jewelry Precious Export – and Umberto's descendants transformed the business, specializing in watch straps and cases. The innovative Novecento mesh was created in 1985 and played an important role in shaping the company's global success with a signature style.

Since 2000, Fope has been operating from its modern headquarters in Vicenza. Fope patented original technologies including those used in the 2007 Flex'it lines, which were handcrafted with fully flexible 18k gold. The brand opened its very first flagship store in Venice in 2015, entering the Italian stock market the following year.

Fope marked its 90th anniversary in 2019 with a limited edition, signature range: the Eka Anniversario. Today, Fope jewelry is still manufactured with the most groundbreaking technologies and pioneering, stunning design.

Fope Jewelry Collections

Eka Anniversario

Based on an original invention from the 1950s, this impressive, limited collection crosses traditional boundaries. Applying the concept of flexibility to luxury materials with Flex'it technology, Eka – meaning 'one' in Sanskrit – creates a perfect storm between high-end jewelry and innovation.

From striking two-tone 18k yellow gold diamond earrings to a subtle, refined 18k white gold 0.13cttw diamond necklace, any piece from the Eka Anniversario collection promises to make an opulent, precious gift.

Eka Tiny

As reflected in its name, this collection offers a familiar feel to the intertwined flexible mesh jewelry seen in the Eka Anniversario, just in a smaller package. Fope bracelets, necklaces, earrings, and rings in the Eka Tiny collection are available in rose, white and yellow gold, only revealing the complexities of their design on close inspection.

These stylish pieces make an alluring addition to any outfit and are even more impressive when combined with other jewelry from the collection.

Love Nest

Whether you're planning to propose or simply looking to impress, Fope Love Nest jewelry is perfect for any occasion. Made entirely with 18k gold, this brand-new collection is characterized by a tightly woven, flexible design.

Whether you're planning to propose or simply looking to impress, Fope Love Nest jewelry is perfect for any occasion. Made entirely with 18k gold, this brand-new collection is characterized by a tightly woven, flexible design.

A luxurious, soft feel on Love Nest bracelets, necklaces, and earrings make them an incredibly romantic gesture. Choose from the indulgence of a yellow gold necklace or choose a diamond bracelet instead, each boasting three gold rondels to offer a subtle hint of floral detail.

Solo

Inspired by Unica, Fope's bestselling collection in the 1990s, Solo offers more intricate, detailed pieces for any sophisticated wearer to cherish. With flexible gold mesh, these newer, authentic pieces with loops and diamonds in various carats make a highly personal, thoughtful gift.

Caring for your Fope Jewelry

At Mayors, we know how important it will be to keep your Fope jewelry looking pristine for as long as possible. That's why we're proud to offer our expertise and luxury services as part of your purchase. We recommend a regular clean and inspection for your bracelet, necklace, or ring, so simply head to your nearest Mayors branch to get started.

As much as we know you'll take care of your Fope jewelry, we know accidents can happen. We're happy to offer a free consultation before undertaking any repairs, either in-house or with careful cooperation from the manufacturer. No matter what life throws at your new luxury piece, we're here to support and maintain your investment.

Buying Fope Jewelry with Mayors

If you're looking for the perfect Fope jewelry, we know you'll find a piece you adore for sale in our exclusive online collection. Our handy Luxury Virtual Boutique is available to help you make an informed choice and will provide answers to your questions about the brand.

With free delivery as standard, we'll ensure your new luxury piece arrives efficiently and safely, ready to be worn and treasured.

If you'd prefer to try on your Fope jewelry before making your decision, you are welcome to visit your nearest Mayors store, where a friendly representative will be happy to help guide you to your perfect choice. If you still have any questions, get in touch.
Back To Top
We use cookies to deliver the best experience. By using our site, you agree to our cookie policy.
Find out more.
We use cookies to deliver the best experience. By using our site, you agree to our cookie policy.
Find out more.
We use cookies to improve your experience and help us to understand how we can make it better. Some of these are essential to make this site work. By continuing to use our site you agree that you are happy to receive all cookies. If you would like to turn off cookies you can manage cookies in your browser settings
Find out more.